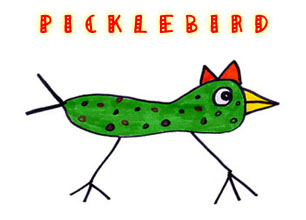 I am glad to see that Picklebird is coming back online. What is Picklebird?
And
what is a picklebird?
Why was it gone? And when will it reappear? You can find out the answers to these questions and more at the new
Picklebird Blog
from where I plucked this short history of the creature.
Long ago, way back in 1999, the Picklebird was hatched from the
minds of artists, writers, and collectors to form an online
alternative magazine for Los Angeles. It consisted of articles,
reviews, and trade secrets from gallerists and insiders. It featured
under-recognized artists of yesteryear that you should have known
more about, reader polls and a comments section (mind you this was
pre-blog craze). We had your artist websites, your personal artist
horror stories, and the greatest show under the big top. There was
also Ebay advice (although not very encouraging to the dabbling
artist, and a bit too sarcastic for the easily offended.) Plus,
Outisder Art definitions, links to the Visionary Art world, art
resources, poetry, random artist's quotes, and an events calendar,
not to mention a bi-monthly newsletter, mailing list database, and
the management of advertising…
Somewhere in the archives of their monster data-base is an article about yours truly.